Print this Page
Email this Page
This Week in Global Health
Friday, May 4, 2012
A weekly round- up of selected health news from around the world. Posted each Friday.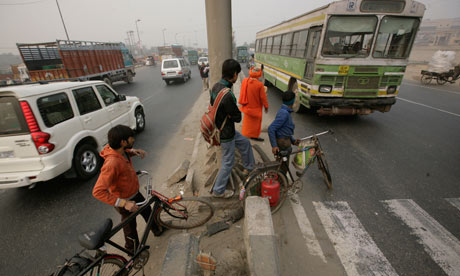 Pedestrians attempt to cross a busy highway in India. Photograph: Kaushik Roy/Getty Images
The Oxford University Press asks:
Why is tobacco control still a problem in Europe?
WLF is cited in this
Khaleeji Times
article about a crackdown on tobacco sold in supermarkets in the United Arab Emirates.
The Guardian reports that
traffic accidents are now the biggest killer
of young people worldwide.
Community health centers in the United States are swamped
as unemployment numbers rise. (Huffington Post)
Premature births
are soaring globally, reports the Huffington Post.
May is asthma awareness month
; Voice of America reports on the search for answers about asthma.
Non-smoking apartment dwellers may face
secondhand smoking risks from neighbors
, reports MSNBC.
41% of non-smokers with children reported smelling smoke in their apartment building; researchers point out that if you can smell it, there will be traces of it in your bloodstream.
Israel expands a ban on public smoking
. (Haaretz)
The world's largest study focusing on
children with chronic lung disorders
has launched in the United Kingdom. (The Star)
The Sydney Morning Herald argues that
clinical research should be freely exchanged
for greater innovation.
The Chicago Tribune reports that fewer
U.S. farmers are raising tobacco
after a federal buyout; one farmer interviewed argues that asparagus is a much more profitable crop.
Maternal mortality
rises in the United States. (Huffington Post)
The Atlantic reports on a
radically different way of bringing aid
to Pakistan.
American states are losing
valuable tobacco tax revenue
to 'roll your own' loopholes, reports the Ithaca Journal.
Many asthmatic kids suffer from
exposure to secondhand smoke
, reports MSNBC.
A Bollywood film ad which
depicts the lead actor smoking
is accused of breaking anti-tobacco laws. (IBN Live)

Have a news item that you think should be included in 'This Week in Global Health'?
E-mail khamill@worldlungfoundation.org.
Stephen Hamill
Associate Director, Communications and Advocacy
World Lung Foundation